30 . 10 . 2023
PRODUCT UPDATES
Welcome to Our In-Built Redaction Tool
30 . 10 . 2023
We are excited to introduce our brand-new in-built redaction tool, a game-changer that allows you to seamlessly redact content directly within your VDR, all while ensuring top-tier security. Bid farewell to the days of outsourcing this crucial yet time-consuming task. Our in-built tool is your partner in identifying and anonymizing sensitive information, including key Personally Identifiable Information (PII). Plus, you can effortlessly revert to the original document as your deal progresses.
But that's not all! This marks the debut of our redaction tool, with more groundbreaking AI Redaction features on the horizon!
Simplify with Redaction Patterns
Experience automation at its finest and say goodbye to tedious tasks. Let our system take the reins in locating common elements, including key PII (Personally Identifiable Information). After reviewing the results, simply confirm, and let the magic happen. Our redaction patterns cover:
Email addresses
Phone numbers
Credit card numbers
PESEL numbers
IP addresses
URLs
IBAN numbers
Dates
Times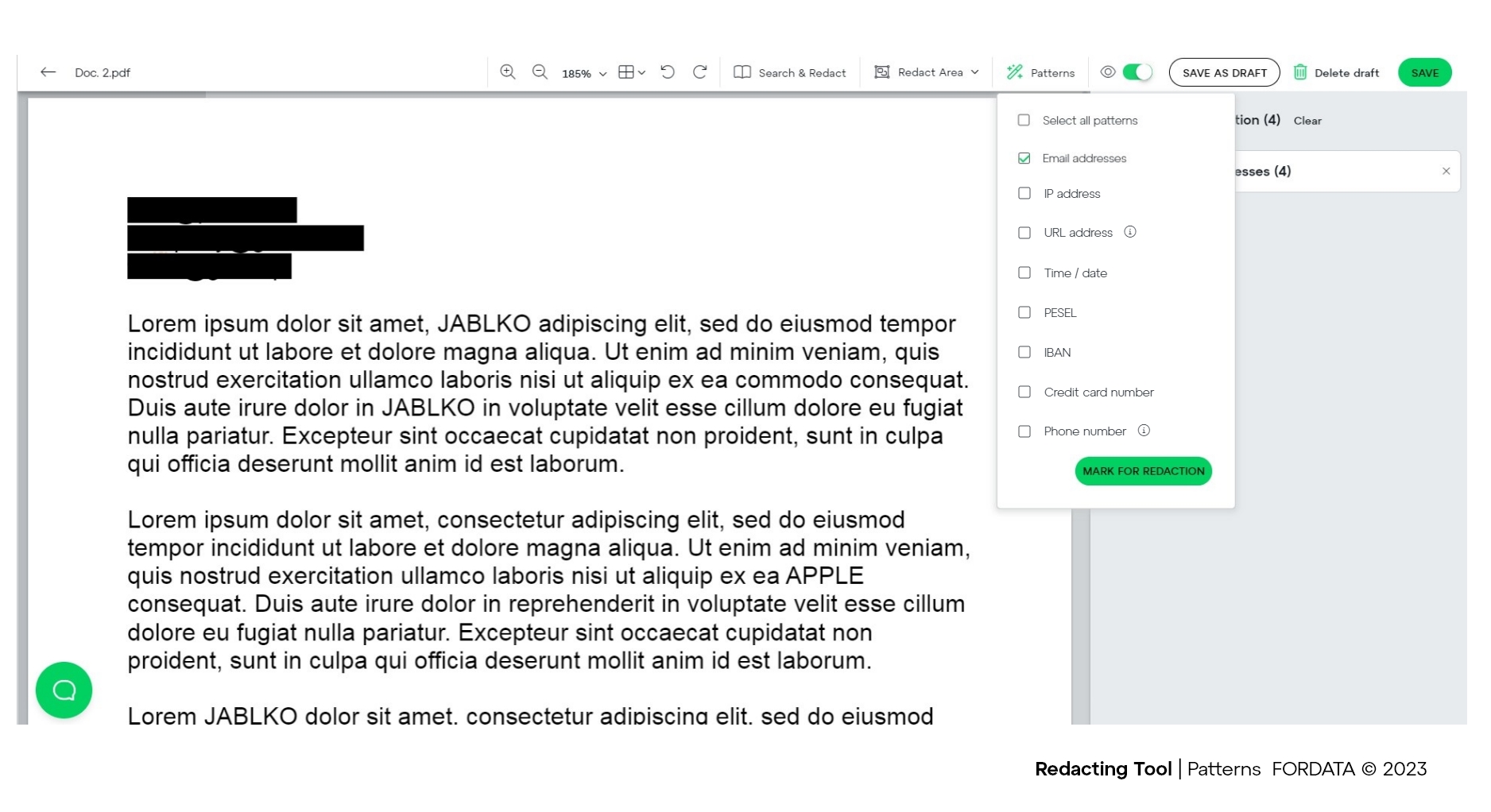 Search and Redact with Ease
Effortlessly search for specific words or phrases, regardless of the language. Our system automates the process by identifying all instances for you to anonymize with a single click. Alternatively, you can manually review the results and redact only the selected items.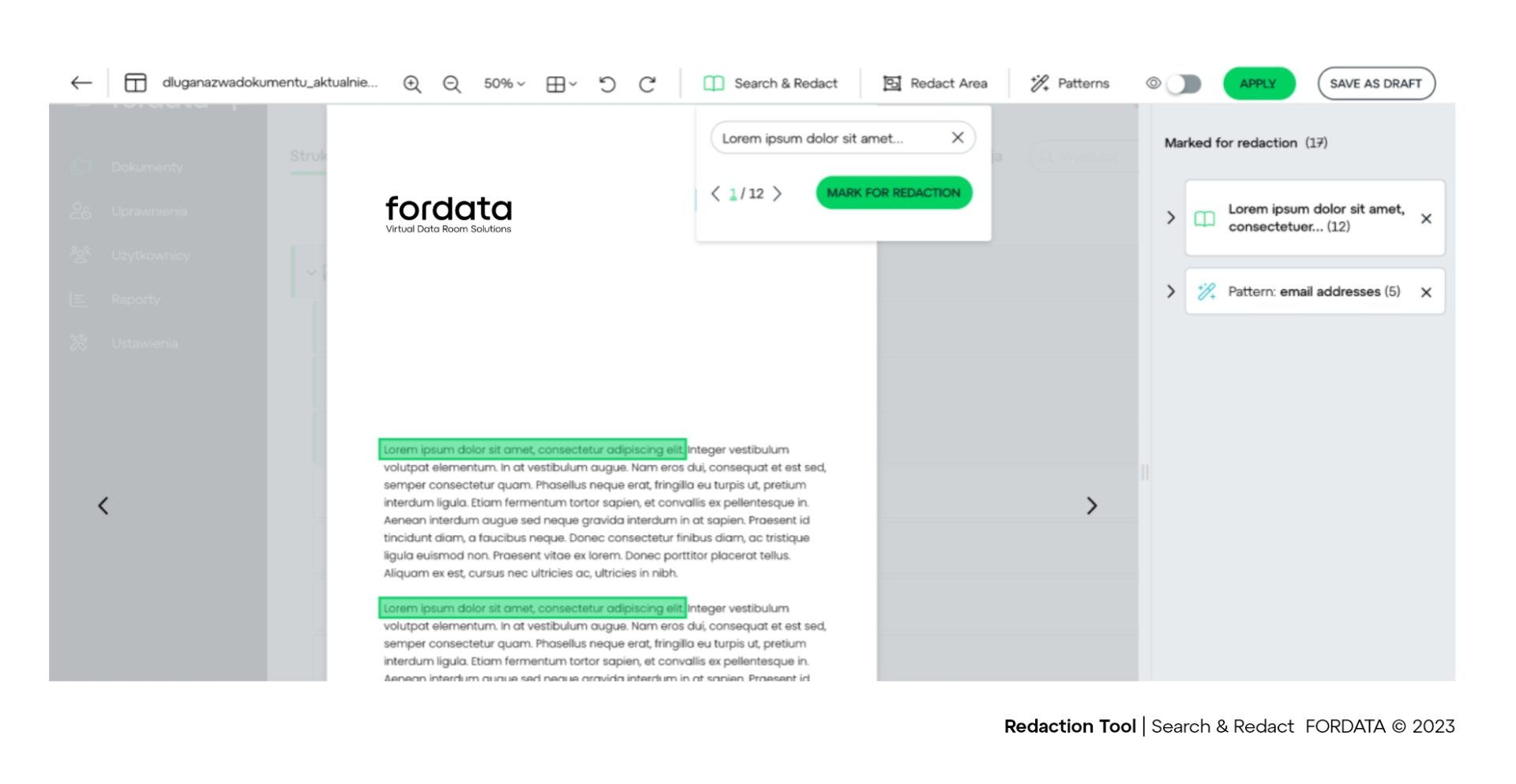 Precision Redaction
When you require pinpoint accuracy in redacting specific content, whether it's words, phrases, sections, images, logos, handwritten notes, or entire pages, our special area tool makes it a breeze. Simply mark each instance for redaction.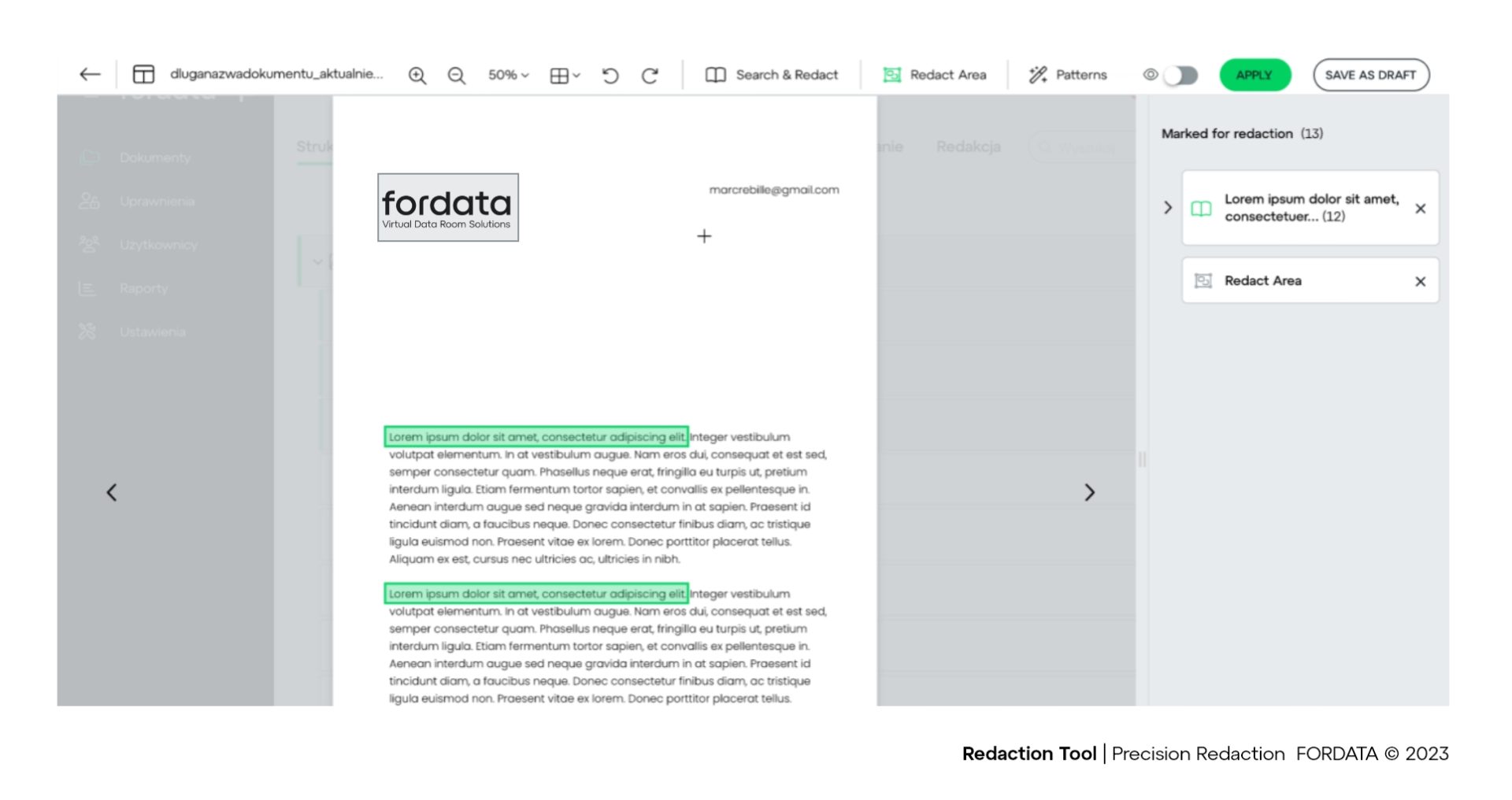 Maintain Transparency
As the Redaction Admin, you have full visibility into what the system has automatically redacted before giving your approval. Collaborate with your team on a draft version of the document to ensure all sensitive content is properly redacted. With a single click, you can confirm, decline, or make changes.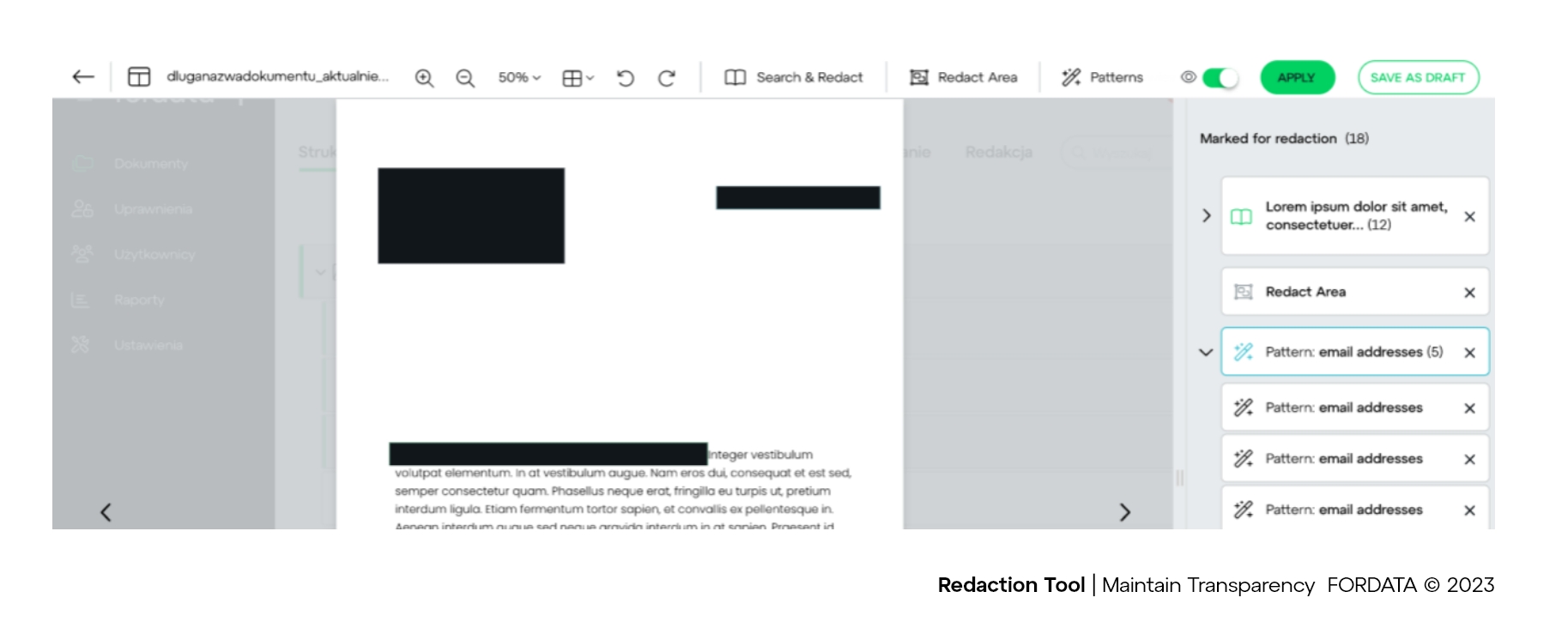 Document Version Control
For enhanced flexibility, your Admin team can store or download different document versions – both redacted or unredacted – to accommodate various phases of the deal lifecycle. Meanwhile, rest assured that the Buyer Team will only have access to the published version.
Unredact on Demand
As your deal progresses, easily revisit the document to modify redaction criteria or revert content back to its original form – all with a simple click.
The Benefits of Integrated Redaction
Our integrated redaction tool provides you with:
Compliance: Ensure compliance with global regulations and data protection laws (e.g., GDPR).
Flexibility: Easily adjust redaction criteria as the deal evolves. Redact, work on a draft version, change redaction criteria, and unredact at any time.
Security: Keep redacted content hidden from the Buyer Team unless you choose to reveal it.
Speed: Accelerate your team's workflow with automation.
4 Simple Steps
01. Automate: Utilize Redaction Patterns and customizable search.
02. Check & Confirm: Review and confirm or edit automated redaction selections.
03. Publish: Share the redacted document with investors.
04. Unredact: Effortlessly revert to the original document when the time is right.
Not convinced yet? Sign up for a free 14-day trial to see our integrated Redaction Tool. Don't feel like testing? Contact us, and we'll provide a live demonstration during a 15-minute meeting.
#FORDATAteam is for YOU.
Did you like the article?
Share
page opens in new window
As a Subject Matter Expert, I fully understand that achieving the desired results requires exceptional patience and careful preparation. In my day-to-day work, I pay particular attention to improving efficiency and building a high level of customer relationships.
Do you want to exchange knowledge or ask a question?
Write to me :
Radosław Król page opens in new window