Fordata VDR - standard for M&A
What is
a Virtual Data Room?
We created a fully mobile platform (with 24/7 access) for Due Diligence, Mergers and Acquisitions, audits, fundraising and other confidential processes. You will carry out your deals quickly and safely. Securely exchange even the most confidential documents with other parties, including advisers, auditors, potential investors, banks and business partners. Apply an easy and intuitive tool that is fully supported by of our experienced team at every stage of the transaction.
Virtual Data Room with VIP 24/7 support
Security
is in our DNA
We know that the key to the deal's success is absolute control over the process and confidentiality of the shared information. As #FORDATAteam, we promise you full support, security and compliance with legal requirements.
01&nbsp.

EU based Data Centers

02&nbsp.

ISO 27 001 - holistic approach to security

03&nbsp.

Compliance with EU legislation, GDPR, MIFID and MAR

04&nbsp.

Compliance with banks' IT and compliance requirements

05&nbsp.

EV SSL certificate - same security as e-banking
What makes
our support special?
We know our clients by name. We act fast. #FORDATAteam - for you and your needs.
01 . WE ACT FAST

We answer the phone in 15 seconds
We reply to an email in 15 minutes
We launch VDR in less than 15 minutes
95% of requests are resolved immediately

02 . VIP SERVICE

We know our customers by name and treat everyone as VIP, no matter the size of a company or value of a deal
We give you a dedicated concierge and technical support assisting you at every stage of the process
We measure customer satisfaction with a lot to be proud of

03 . AT HAND 24/7

We work like a member of your team
Available 24/7
We can do the most tedious work for you - upload documents, create structures (we have templates), rename files, redact documents, invite users etc.
Industry-leading
security standards
Protect both PDF and non-PDF documents equally (MS Office, JPG, PNG, Autocad files - DWG i DXF etc):
Block saving and printing of files
Protect documents against modification (read-only mode)
Apply dynamic watermarks on files
Prevent text marking
Apply "Fence view" & "Blur view" securing files against accidental content exposure
Blocking Prt Sc key combination
more

More
Fordata Virtual Data Room - more than just technology
Dedicated tool for Due Diligence with full 24/7 support - for you and your needs
ORDER A QUOTE

ORDER A QUOTE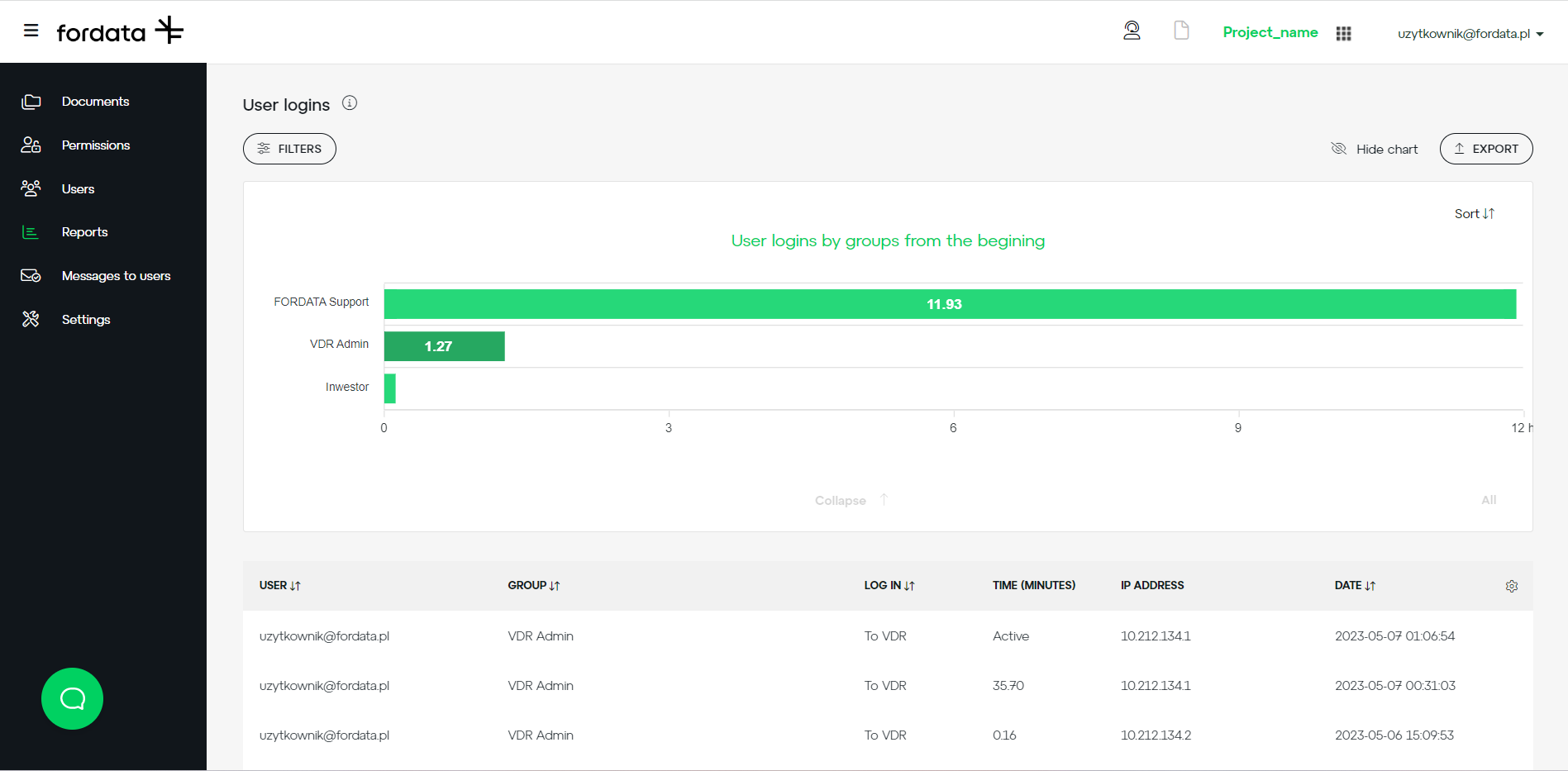 Advanced analytics
and activity reports
Control deals, know investors' goals, and follow regulations


Track and analyze activity (see who viewed which files and for how long)


Discover which content generates the most or the least interest and be better prepared for investors' questions


Compare investors activity thanks to easy-to-read charts


Track file history for audit purposes (uploads, changes, access permissions)


Secure & controlled
communication
Thanks to built-in Q&A module easily manage a large number of inquiries from potential partners, e.g. investors


Guarantee the confidentiality of conversation


Plan your workflow flexibly, using several configuration options (tailored for Due Diligence)


Use special features, e.g. automatic statuses, question limits, question categories (financial,legal), answering many investors at the same time


Fast document
upload & automation
Automate your work or let our team handle the tedious tasks for you


Upload entire folders with files using simple drag&drop or create folder structure by importing an xls file


Load quickly and efficiently -1GB in 7 minutes


Track upload progress and gain full control with detailed reports


Use automatic notifications to inform users about new files


Flexible access
rights management
Customize document/user permissions and maintain control over information access


Grant permissions in bulk for folders or entire groups (e.g. investor)


Automatically grant the same permissions to multiple groups using 'Copy settings to a new group' option


Stay in control with a clear permission views of selected or all groups


Change file/folder permissions flexibly or block access to VDR


Efficient work
thanks to extra options


Use advanced search options including Full Text Search


Speed up your work thanks to mass operations (bulk upload/download, creating users by importing an xls file, inviting users in bulk, moving entire folders or several files at once)


Accelerate documents analysis thanks to autonumbering of index, filters, tags, private notes, discussions