14 . 08 . 2019
Good practice
Fake software aggregators – how to identify them?
14 . 08 . 2019
Business owners and experts usually don't have time to check every new piece of software, including data rooms, and sometimes they simply cannot tell which application might be the best choice for their company. This where online software aggregators come to play as a possible source of information. It's fortunate when companies find themselves a reliable platform. Things get worse when the search engine displays a fake website…
What makes a good software comparison tool?
Software aggregators are dedicated internet platforms that deal with collecting information on various software and compare it in terms of functionality, price, customer service and other values that may be important to the company. Accounting, emailing, antivirus, warehousing and other types of software is compared to help decide which provider brings the best tools. The list of categories is practically unlimited. There are many reputable software comparison websites out there. They can reach a wide audience, like Capterra, but also specific or niche specializations.
One of the benefits of such platforms, which deserves special recognition, is the fact that companies who don't employ software specialists can learn about the existence of certain types of software and acquire reliable knowledge about its functions. With software aggregators at hand, companies can learn how to improve certain processes, reduce costs, increase efficiency or extend the offer of services, even if the staff have no time or background knowledge. Names of the programs with links to manufacturers' websites are listed comfortably in one place, which usually takes the form of a ranking. On one hand, it indicates the best solution in a given field, and on the other – it is a great marketing tool.
Reliability of a ranking is most often supported by user and expert rating, on which the software's position often depends. Typically, a higher position translates to greater audience interest. There is an element of competition between developers to it, which is naturally associated with their desire for greater visibility in the main ranking. This prompts developers to constantly upgrade their product and platform owners to introduce various types of marketing tools that will help increase the said visibility. When the whole process is focused on the clients and their needs, such a relationship is healthy, serving all sides. Clients can see which programs are likely the best, developers are motivated to provide quality, while the platform earns on promotion tools.
Fake comparison websites - how developers deceive their customers
The situation gets complicated when developers try to take advantage of inexperienced users and the appeal rankings have, trying to make customers believe that their solution is the best. As a result, fake comparison engines are created, mass-produced and positioned in the web by software providers themselves in a morally questionable way of having their business goals meet. Simply put – dishonest competitors cheat users for the sake of their own profit. Such "rankings" ineptly pretend to be reputable platforms and use social engineering in the hope of better sales. Why improve your own solution and give your customers a choice when you can produce a dummy software aggregator, fake the "customer reviews" section and boast an unwavering top position in the ranking? Customer rights are not of the slightest importance here.
How do you spot a fake Virtual Data Room comparison platform?
Caring for good business practices and supporting the right of real choice, we present the known manipulation techniques and typical features of fake deal room aggregators. They have zero in common with industry standards, although they pretend otherwise.
Digging through all the "platforms" we discovered and highlighting their common points made us smile in pity over the way some VDR providers treat their customers. Although we'd like to, we won't be flashing names. Instead, we provide the most common signs that say the software comparison tool we look at is an ordinary fake.
| Type of section | Why it is fake |
| --- | --- |
| The Ranking | We can be sure that place number 1 will never, ever change. The sites do not provide the number of customer votes that contribute to the rating, nor any ability for us to vote, nor the names of "experts" who make the choice. Placing usually depends on the opinion of the anonymous "editorial board". We won't find any reliable data or external references here regarding the personnel. |
| Customer Opinions | Clients" who are to confirm the credibility of the ranking are basically stock photos and fake names who are titled "CEO", "Expert", "CFA" of ghost companies. Product reviews is treacle for The Ranking's (see above) winner, strikingly overusing superlatives. |
| Contact | In the best case, we will find a contact form that directs to an anonymous address. Usually, there is no reference to the company website, no phone and no company address. If you decide to leave your email (I strongly discourage it), you either won't be able to conclude filling the form in or your email message may "go through" to a base you know nothing about. |
| Terms of Use | I imagine this one must be a real downer for fake creators. This section is normally supposed to ascertain us we are dealing with a legit website. In this case, however, it shows clearly the platform we are visiting is a fake. Reason? No verifiable data on who takes care of the page is provided. There is no information whatsoever about the entity managing the website or the administrator of our personal data. Instead, the section reads clichés taken out of legal jargon, which in practice do not coincide with the content of the website or reveal other gross deficiencies. It is here just to pretend the site is reliable, while some services even ask for our name and email without informing back who will process our data. |
| Blog | Only a few articles on the site, no author's name and publication date, or a long-outdated content that pretends to be alive through internal references. If the date of publication is ever provided, it can easily be noticed that the blog is updated a few times a year at most. The content usually praises the winner of "The Ranking" or gives only general information about what VDR is. |
| Apparent authenticity | Yes, we will find here typical sections a real website has: About, Features, Blog, Contact and other. But these pages are shallow and can be navigated in just few clicks. The name, the logo and the design want to tell you it's a "professional" service. But specific data about the website owner, social media, or external links are nowhere to be found. The ranking includes logos and descriptions of actually existing competitive software to give the impression of objectivity, directing the visitor outside via the only real link - the "winner's" page (which says a lot about who prepared it, by the way). |
| General chaos | The whole site looks aesthetically worse than average and the texts mix different orders. Sometimes it is unknown whether a given block is a staff review, general product information, customer opinion or a software review. What we have here is an assemblage of text, which is to give the impression of an expert and information-rich website. One thing they have in common is praise of the "winner". |
The dozen-or-so software aggregators we found and went through probably don't exhaust the list. Still, we hope that the above tips will help your company avoid a situation in which a dishonest supplier tries to influence your choice of software using manipulation.
Did you like the article?
Share
page opens in new window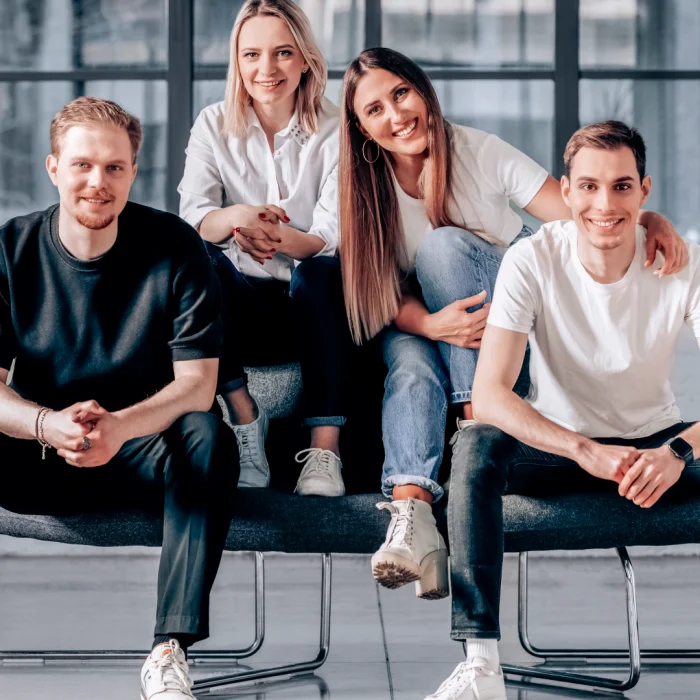 How many heads, so many ideas. That's why each of us contributes to making the content on our blog attractive and valuable for you. Discover a source of knowledge and inspiration for your business with Fordata.
Do you want to exchange knowledge or ask a question?
Write to me :
#FORDATAteam page opens in new window